On 28 January 2020, the District Court for the Central District of California issued an order in a securities class action lawsuit against Toshiba (Stoyas et al. v. Toshiba Corp.) denying the defendant's motion to dismiss the complaint. The class action relates to American Depositary Receipts ("ADRs") traded in the US on the over-the-counter market.
Toshiba moved to dismiss the complaint, arguing that it did not meet the requirements of § 10 (b) of the US Securities Exchange Act as established by the US Supreme Court in its 2010 landmark ruling Morrison et al. v. National Australia Bank. In Morrison the Supreme Court ruled that §10 (b) only applies to :
transactions in securities listed on domestic exchanges and
domestic transactions in other securities.
In addition, the plaintiff must show that the defendant engaged in deceptive acts "in connection with the purchase or sale of such securities." In its motion, Toshiba argued that it could not be deemed to have acted in connection with transactions in the ADRs because Toshiba is a non-US company (incorporated in Japan), its shares are not listed on any stock exchange in the US, and it had not played any role whatsoever in the issuance or sale in the US of the ADRs – which were "unsponsored", i.e. issued by a depositary institution without formal participation or consent by Toshiba.
The plaintiffs, in response, argued that, despite Toshiba's not formally sponsoring the ADRs, it was implausible that the depositary bank for the stock underlying the ADRs had acted without Toshiba's "consent, assistance or cooperation" because of the volume of shares it held – about 55 million, making it one of Toshiba's ten largest shareholders.
The District Court denied the motion to dismiss, thus allowing the plaintiffs to further pursue the class action. It ruled that the plaintiffs had sufficiently alleged Toshiba's plausible participation in the establishment of the ADR program, and thus the plaintiffs' claim that Toshiba's fraud was "in connection with" the sale of the ADR's in the US was sufficient to survive Toshiba's motion to dismiss. The decision is significant because, if upheld and adopted by other courts in the US, it provides purchasers of unsponsored ADRs a potential avenue for recovery in the US that the Morrison decision had appeared to foreclose.
If Toshiba succeeds in demonstrating that it had no participation in the issuance of the ADRs – in contrast with the plaintiffs' allegations – the court may still rule that the claim does not meet the requirements of § 10 (b) at a later stage of the proceedings, be it in summary judgment or at trial. To be continued…

Written by Michael Watson & Jens Benoot .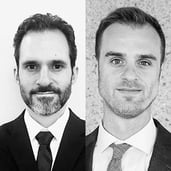 Written on February 24, 2020 by