On April 5th 2022, Deminor's General Counsel for the German market, Felix von Zwehl, will partner with Amaury de Bruijn, Senior Counsel Litigation at FrieslandCampina, to deliver the day's final talk, "Litigation as a Profit Centre in Companies."
They will address a several key topics within their talk to a select group in-house legal leaders covering how an in-house legal department can learn to think and act like a litigation funder, whilst also sharing the advantages of utilising litigation funding to help their department turn from being a cost-centre into a profit-centre.
The event will be held at the Waldorf Astoria in Berlin. It is a two-day event taking place over the 5th & 6th of April.

Overview of topics to be addressed at the Summit:
Cross-Border Litigation

Back to the Future: How Corporates and Their Counsel can make Commercial Arbitration Great Again

ESG Disputes - What's Behind the Hype? And What to do Just in Case

Climate Change Litigation & Arbitration

Risk Management – Practical Implementation. E.G. Contract Risk Management

Litigation Costs - The Importance of Predictability and Budgeting for Businesses

Litigation Decision Analysis - Practical Session

Data Protection Developments

Lessons learned: Practical Handling of Successes and Failures in Litigations

Litigation Funding Case

Litigation as Profit Centre in Companies

Advertising and the European Green Deal

White Collar Crime Litigation & Investigations

KPIs for litigation

White Collar Crime Litigation & Investigation

s

Declaratory Model Action
In addition to Felix von Zwehl speaking at the event, Deminor's Hamburg lead and Senior Legal Counsel, Dr. Malte Stübinger will also be attending the conference, where both will be able to offer their unrivalled insight into the current development, expansion and utilisation of the German third-party funding market.
We're excited to be sponsoring this year's event and hope to see you there.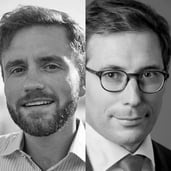 Written on Apr 1, 2022 by
Dr. Malte Stübinger is Senior Legal Counsel, Felix von Zwehl is Manager & Legal Counsel at Deminor Recovery Services.